Good call on the menu call, Emily. I'm not usually big on New Year's resolutions, but this year I did make one - to record what we had for dinner every night. I have my ups and downs with menu planning - sometimes I get the whole week planned out ahead, other weeks it's flying by the seat of my pants. But at least, I thought, I could write down what we ate AFTER the fact, right? And then after a few weeks or months, I'd have lots of ideas recorded to refer back to, instead of wondering anew, "what's for dinner?"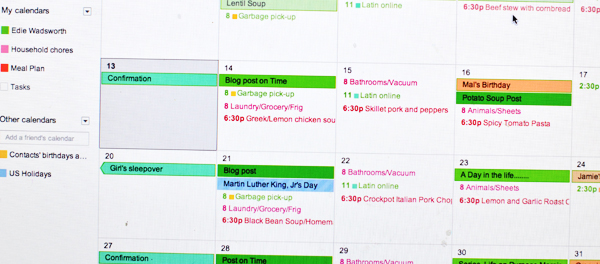 Providentially, I then happened upon a
post at Life in Grace
all about using google calendar for menu planning. (That's her calendar, not mine)
This is perfect for me, since I already use google calendar as my main "keep track of the crazy" method. Edie had the brilliant idea to just create a separate calendar called "dinner" (and make it a different color-fun!) and put in your menu plan there - including the whole recipe or a link to it in the "notes" section. The great thing about google cal is that you can set each "event" or "dinner" to repeat at whatever specific interval you want... so our regulars, like roast chicken, I set to repeat every 2-3 weeks, while more obscure meals get set to repeat every...8, 9, 14 weeks? whatever I want. I'm still not being super great about planning ahead, but what I am doing is putting in the dinners as we have them, and setting them to repeat according to how much we like them/how easy they are, etc.
Anway, I can't tell you how excited I have been and still am about this system. I really hope to have a system that will work well in the long term. And of course there's got to be flexibility, but I have no problem with starting out my week looking at a whole menu plan and then just tweaking it - as opposed to starting with nada. If you don't already use google cal, you should. It's so convenient to have it on the computer or your phone and be able to access it anywhere!
Ok, enough of my long-windedness. I will just mention a few new recipes I've tried recently and really liked.
Chicken and Kale Casserole
- loved the hint of lemon in this, it was easy, and KALE, yay me, right?
Beef Stew-
also from Life in Grace; I've made beef stew many a time, but this one was really delish.
And finally, our menu this week ( do you really want to know?)
M-Potbelly/Jimmy Johns (haha cheat night since Brian took the boys to a Bulls game)
T-Chicken and Groundnut Stew
W- Shepherd's Pie
Th-Sausage and Kale soup (got to use up the rest of that kale!)
F- panko breaded tilapia filets from Costco