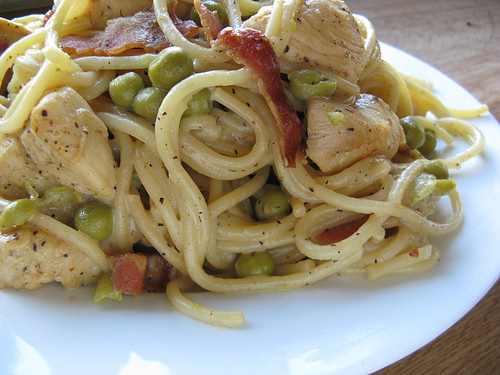 This is a pretty easy dinner (recipe from Giada de Laurentiis) that you usually have the ingredients on hand for (ok, I just use bacon instead of pancetta, and usually 1/2 and 1/2 instead of cream, and I don't always have the fresh herbs, so sometimes I use dried, and I never put on the walnuts and lemon zest, but maybe they're good too. Oh, and sometimes I make it without the chicken, and I use whole wheat pasta, and the other day I threw in a bag of frozen peas... so you see how I improvise, but any way you do it, it's delicious.) My dad claims Giada can't be a very good cook because she is so skinny, but hey, this is pretty good. She must just make it and not eat it.
Ingredients
* 2 teaspoons olive oil
* 4 ounces thinly sliced pancetta, chopped
* 2 teaspoons minced garlic
* 2 1/2 cups whipping cream
* 1 cup freshly grated Parmesan
* 8 large egg yolks
* 1/4 cup chopped fresh basil leaves
* 1/4 cup chopped fresh Italian parsley leaves
* Salt
* 1 pound spaghetti
* 4 cups coarsely shredded chicken (from 1 roasted chicken)
* Freshly ground black pepper
* 1/2 cup chopped walnuts, toasted
* 1 tablespoon finely grated lemon peel
Directions
Heat the oil in a heavy large frying pan over medium heat. Add the pancetta and garlic and saute until it is brown and crisp, about 8 minutes. Cool slightly.
In a large bowl, whisk together the cream, cheese, yolks, basil, and parsley to blend.
Meanwhile, bring a large pot of salted water to a boil over high heat. Add the spaghetti and cook until it is just tender but still firm to the bite, stirring occasionally, about 10 minutes. Drain.
Add the chicken to the pan with the pancetta and stir to combine. Next, add the spaghetti and the cream mixture and toss over medium-low heat until the chicken is heated through and the sauce coats the spaghetti thickly, about 4 minutes (do not boil or you might end up scrambling the eggs). Season the pasta, to taste, with pepper and salt if needed (the pancetta will likely add all the salt you need). Transfer the pasta to a large wide serving bowl. Sprinkle the walnuts and lemon zest over, and serve.
(photo credit: blogchef.net)